We were overwhelmed with the amount of positive feedback we received from everyone who visited our stand at The OT Show 2015.
As we approach our 50th year as a company, we understand that Dycem Non-Slip products have become somewhat of a staple in the 'Occupational Therapists' Tool Kit' and for this we would like to express our sincerest gratitude for your support over the last half a century – we couldn't have done it without you!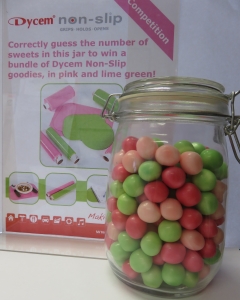 During the OT Show, we ran a competition from our stand. Correctly guess the number of sweets in the jar pictured above to win a bundle of Dycem Non-Slip goodies, in pink and lime green!
We received well over 100 entries and we can now reveal that there were in fact 195 sweeties in the jar.
We would like to congratulate Naomi Harrison from Derby on winning this competition with her guess of 194. She was over-the-moon with her prize and had this to say about winning,
"Amazing. I was happy to get the goodie bags from you at the show, but I'm really pleased to have won. I love Dycem."
Runners up: 
Our next two closes guesses came from Sonia Duthie in Bedfordshire and Helen McKenna from Surrey.
Helen had this to say about her win,
"What a lovely surprise. I'm looking forward to receiving my goodies."
And Sonia was equally pleased with her prizes,
"I'm thrilled. I've never won anything like this before and it's lovely, thank you very much," she said.
Congratulations to our winners, thank you to all who entered and visited our stand at the OT Show.