The Dycem Non-Slip team will be returning to Düsseldorf, Germany for the 2015 Rehacare International Trade Fair for the rehabilitation and care-giving sectors.
The exhibition is the perfect fit for Dycem as it showcases products that make life easier for those with disabilities, the elderly and for care giving.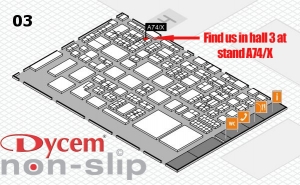 The exhibition runs from the 14th to 17th October 2015 . We invite you to join us at stand A74/X in hall 3 for hands-on product demonstrations and to see how Dycem Non-Slip products can make life easier.
Don't worry if you can't make the event – you can find out more about our products at dycem-ns.com and you can chat with us at Facebook or on twitter @DycemNS !
Find out more about the exhibition at Rehacare.com.