Dycem Non-Slip is an established brand amongst Occupational Therapists and Physiotherapists, as its non-slip properties can secure objects in place and improve hand grip. The Non-Slip team have also discovered new applications in the hospital ward helping nursing staff carry out their day to day duties, such as feeding and moving patients and improving the quality of the patient experience.
Weston General Hospital, part of Weston Area Health NHS Trust in North Somerset (www.waht.nhs.net), recently trialed our range of our Non-Slip products within two of the wards. Sister Jayne Biddiscombe and Sister Joy Milsom volunteered for the trial and identified a number of different uses for Dycem in the hospital ward.
The Dycem rectangular mats, for example, allow patients to eat independently, if they, for instance only have the use of one hand or have weak grip strength.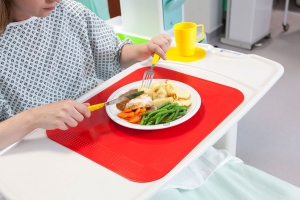 Dycem Mats can also work as a visual marker, helping patients with visual impairments or dementia find where their drink is placed, thanks to Dycem's bright and vivid colour palette. The yellow range of products, in particular, were developed in association with the RNIB and are specifically designed to help those with visual impairments detect- to a varying degree- colour contrast between objects.
Sister Jayne and Sister Joy also found Dycem Non-Slip Reels useful in preventing pressure relieving cushions from moving around on the tops of chairs- which can happen frequently, as they are inflatable and light enough to fall out of place easily.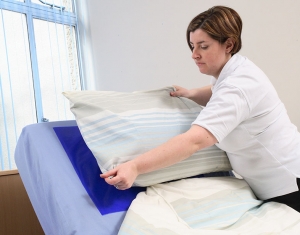 Another interesting use which was found by the nurses was preventing arms from slipping off of the arm rests of chairs. Dycem Non-Slip's, non-toxic and latex-free properties make it safe to use against skin and its firm hold can reduce the likelihood of a patient's arm from slipping and causing pain or injury in the shoulder.  This can prove especially useful for stroke patients who may have reduced feeling in one side of the body, for example.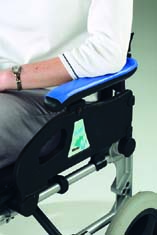 Improving comfort and independence for patients is one thing, but minimising the risk of patients slipping and injuring themselves could also help to reduce their length of stay in hospital- which could potentially be a huge advantage for both patients and staff.
Business Unit Manager, Eva Paras, had this to say about the Weston General Hospital trial and others, which are currently taking place in hospitals around the South West;
"Dycem has many great uses for Occupational Therapists and Physiotherapists and now we're finding out how it could be of use in hospital wards and other departments too. The feedback from staff at these trials has been positive and the list of applications for Dycem is growing and growing. Reducing recovery time, increasing patient comfort and providing patients with more independence are just a few worthwhile applications and we're hoping medical professionals can also utilise our highly adaptable range of products in their departments as well."
If you would like to find out more about Dycem Non-Slip for use in hospitals, or you think Dycem may be of use in your health facility, please get in touch with the team, email nonslip@dycem.com.
(Weston General Hospital photo credit:  Weston Area Health NHS Trust)